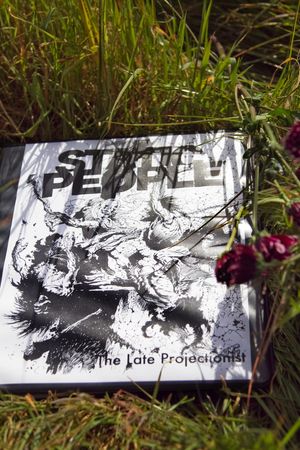 The San Francisco Bay Area boasts a pretty sweet digital arts college: Ex'Pression. It's filled with hungry young filmmakers, animators, sound engineers, and hipster techies. Our band was selected along with solo hip hop artist Sandman to have our first video produced by students. We're told that many bands applied and we stood out both musically and image wise(cue tooth sparkle). A few weeks after getting the call we were on our way to the school to meet with the directors and brainstorm. After we agreed on the song and got to know each other a bit, poor Co-Directors Russell DeMaestri and Andrew Bertolucci had a meager 48 hours to come up with concepts, storyboard them and pitch them to us. Oh yeah, and they also had to listen to the song about 600 times. They came up with great ideas and we ended up choosing elements of all of their concepts. It's understandable that some might think the idea of a "student produced" video might be cause for alarm, but these two lads are hungry for film making with a load of vision, and they took on a pretty big concept when they could have easily cobbled something together at the college. Instead they went for a story line, two locations, a combination of black and white and color, nifty transitional camera shots and heavy editing involving lots of animation. They had their work cut out for them. Not only did they need to shoot our video but also had to assist on the Sandman shoot on either end. They basically kicked ass.

First they came up to Sonoma to scout locations. We drove around checking out various fields and met with Roger Rhoten of the Sebastiani Theater, a GORGEOUS 78 year old movie house and a local landmark. It's beautiful inside and provided the perfect location for the song "The Late Projectionist". Thankfully Roger agreed to let us use the location on a bit of short notice. We had four hours to make it happen.

The day of the shoot, we met on a sunny morning, the only dry day in a string of nasty weather for several weeks. After standing around drinking coffee for a while(obligatory), we trudged out in to the field to get all of the B-roll stuff. Chivalry is not dead--Daedalus carried me out there since, of course, I refused to wear appropriate footwear in the muddy field. After much running back and forth though, the shoes were toast. Sacrifices must be made I guess. There's something amazing about the fields in Sonoma at the end of winter, all green and lush for a short month or two before the blazing sun comes and cooks it to that golden brown California color that lasts for the rest of the year. Also on hand were Chris Potter and Corey Redfield, both Ex'Pressions Instructors, and two other students from the other video shoot. Armed with multiple cameras, they weren't afraid to belly crawl in the grass. Our favorite photographer Cathy Stancil came out to document so we have some evidence.


It was time to move onto the next location, so we grabbed some tacos and headed to the Sebastiani. This place is so kick ass. It has a huge red velvet curtain framed by a sweet proscenium and the lobby is filled with cool, geeky stuff.  After wrangling with the sound and realizing that our drummer was going to drown out the playback, they pumped the audio through the house sound system and we were able to start shredding. Videos are weird because it's fake. But if it's loud enough you can get into it. At the end of one take I looked back to see Pascal hopping around like a madman and Daedalus crashing onto the floor. Glitter was flying everywhere. It was a blast.

We also got a special visit from local musician Dark Lord Byron who moonlighted in the lobby, hovering like a specter of gloom behind the bright and cheery concessions counter. All in all it went surprisingly well. The only bummer is that those guys are now buried up to their necks in footage and we won't see the likes of them for about 6 weeks. Plus they'll probably HATE our song now if they don't already. We'll send out a link to the video once it's done and--we're already thinking about the next one! For more photos from the shoot, go to the Static People photo page. It's a wrap!