We had a great time filming our second video for Toxic Overload at Berkeley's Adventure Playground, a super dangerous and magical park for kids that we got to invade.  We felt crappy telling the family that wandered into the gate that their kids had to stop playing on the fort and leave because we were shooting a video. I'm sure I saw one of those kids flip us off before that gate slammed behind him.  It was 4/20! and about 85 degrees.  Ken wore his silver suit, which was probably not a good idea, but he's willing to suffer for beauty like the rest of us bitches.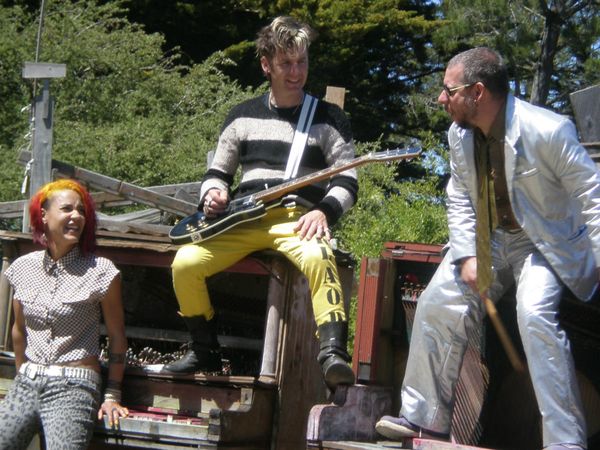 Ha ha!  This is so fun!  We're definitely NOT dying from heatstroke
The directors,
Patche$
, Joey Spingarn and Hamilton Gordon, had recorded the song at 1/3 speed, so we performed it at a snail's pace, which took about 11 minutes, and they sped this up to match the original audio speed in post production.  This created a really weird and druggy feeling to the end of the video.  After getting all of our shots, we ran around jumping on the play equipment for B-roll.  Let me tell you, this playing crap is hard.  We were huffing and puffing in a quick minute.  Still not sure how kids do this in the hot sun for hours.  Oh I remember, they're fucking YOUNG.  Pascal did the ultimate rock move of screaming down the zip line while holding his guitar, and promptly bit it into the sand at the bottom. 
The next day was at a high school which shall not be named, south of San Francisco.  I'm not going to divulge everything that went on in there but let's just say we needed a shop vac and mops to remove all of the evidence.  Again these three directors had their heads set on a water scene, and they totally pulled it off by rigging up boom stands and garden watering cans.  After spending way too many hours trapped inside the high school(how much espresso and free food can you ply people with anyway?), we all had buckets of water rain down on us.  It felt great.  The oppressed zombie students were awakened, and high voltage rock saved the day.  Tammy Faye eyes were had by all(at least by Dmitra).  The highlight of the day was having the amazing
Brian Keith Russell
 come up from LA and play The Teacher, Principal Hardassian, and The School Nurse.  He was excellent as the various faces of oppression, and he busted out these crazy ass googly eyes that he made himself.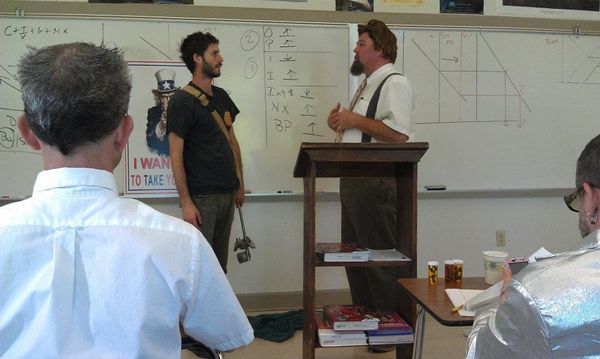 Patche$ and Brian Keith Russell plan the shot
 We had help from some kooky zombie friends who were willing to be oppressed for the day, like
Cooper Xeno
 and
Dark Lord Byron
 (who cameos in The late Projectionist video as the spooky candy counter guy), as well as SF actor
David Usner
.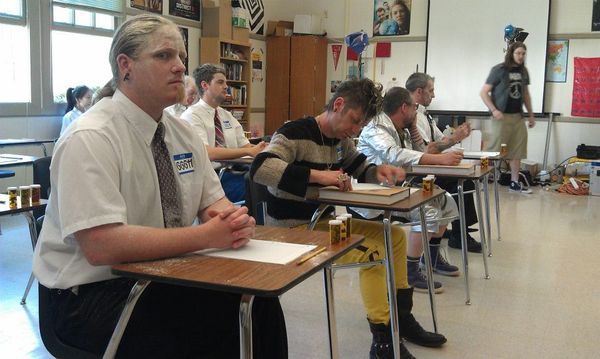 The Dark Lord Byron was actually forced to wear a white shirt and a tie for nearly 8 hours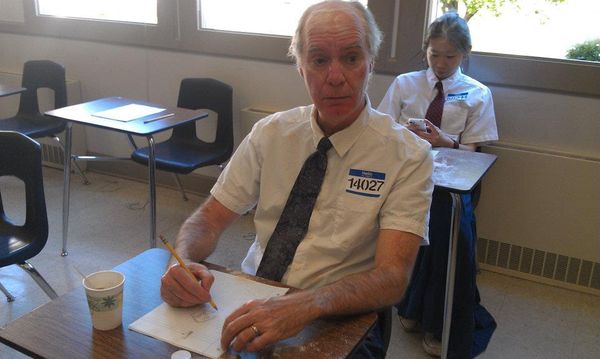 Actor David Usner: oppressed, medicated and compliant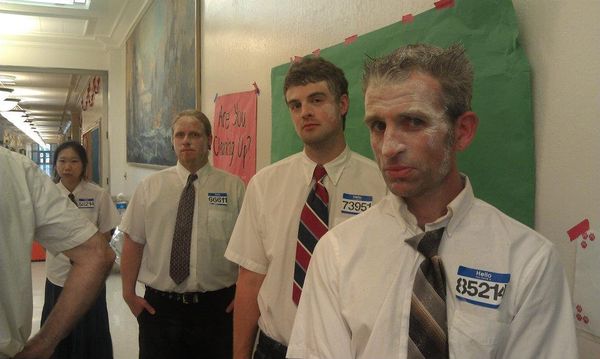 Cooper drank about 30 espressos that day.  I'm not kidding.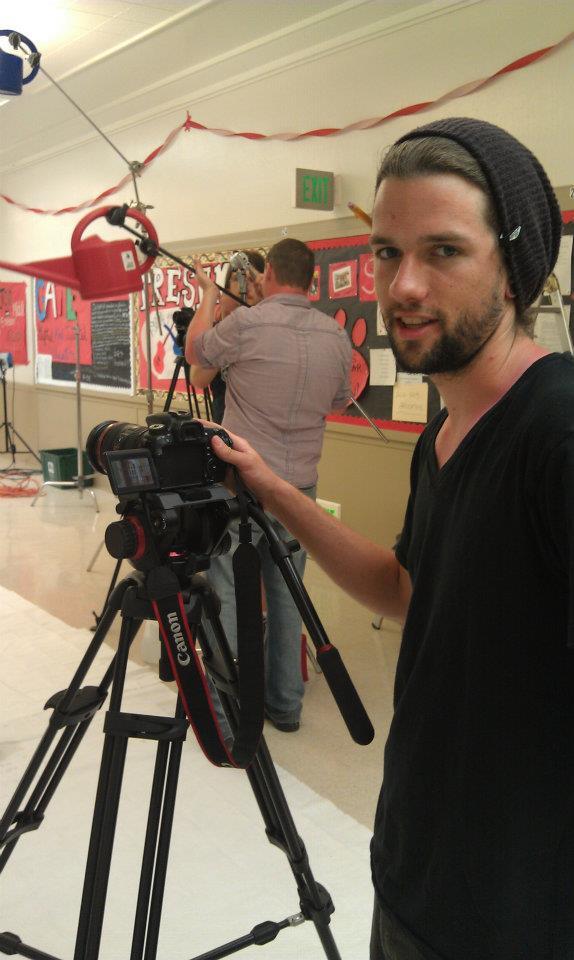 Co-director Joey Spingarn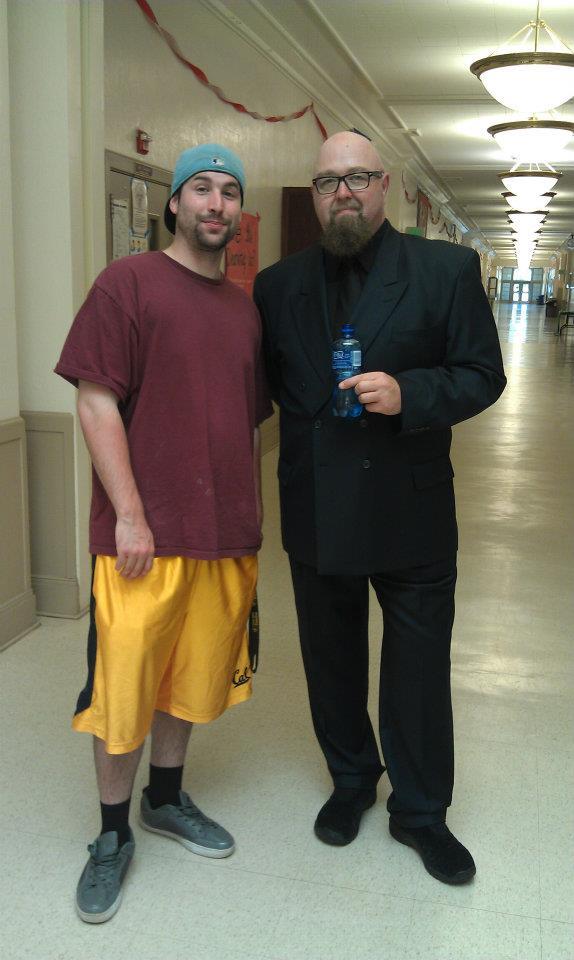 Co-director Hamilton Gordon(also a music producer) and Principal Hardassian.
After 48 hours of madness, it was a wrap.  The three gentlemen below edited through about 10 hours of footage and came up with the finished result, which you can see
here
.  Nothing to do now but make another one.  And remember, those meds they give to the kids?  They fucking SUCK.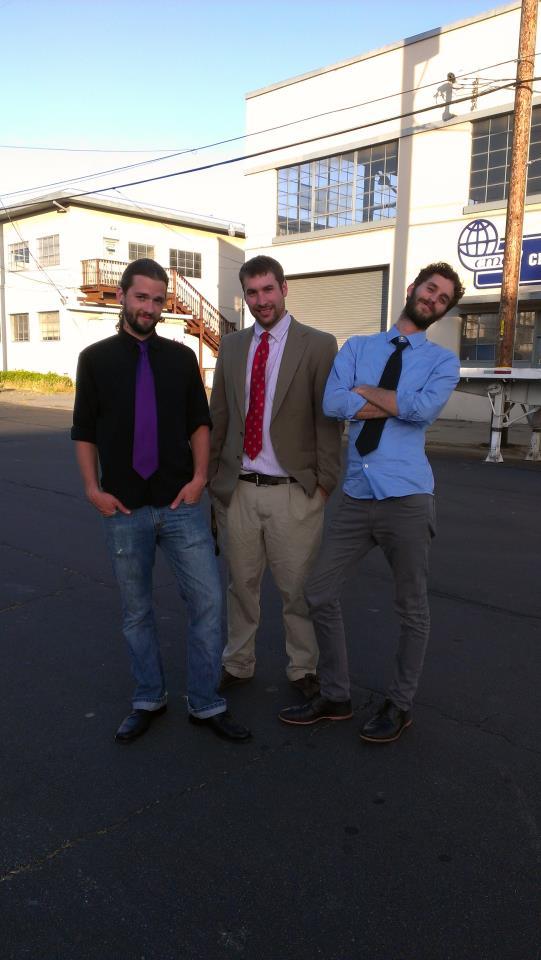 Co-directors Joey Spingarn, Hamilton Gordon and Patche$ (www.hellopatches.com)
They went above and beyond the call of duty with all kinds of cool animation, weird time lapse shit and a fucking water scene!  Love love love.